Clinical Mental Health Counselor
Jason R. Wagner
Jason graduated from the University of Phoenix with a master's degree in Mental Health Counseling in 2014. He is licensed as a Clinical Mental Health Counselor. Jason started Moving Forward Counseling in 2017 and in that time, he has worked with clients struggling with substance abuse issues, as well as mental illness issues such as depression, anxiety, and PTSD.
Jason uses a person-centered approach to meet clients where they are at but challenge and push them towards growth and progress. He has been trained to use EMDR (eye movement desensitization and reprocessing) to help those with PTSD and trauma-related issues recover to where they can move forward with their lives.
During his down time, Jason spends time with his wife and three, mostly teen, children. They enjoy traveling, especially to national parks. Working out at the gym and watching the Utes and Jazz are regular events as well as the never-ending list of projects that need to be done at home.
Clinical Mental Health Counselor
S. Lee Chew
Lee specializes in mindfulness-based psychotherapy individually and in group therapy. She has been a long-time practitioner of mindfulness and teaches the practical application of mindfulness in everyday life. Lee feels passionate about the research-based effectiveness of mindfulness as a tool to interrupt automatic behavior patterns that no longer serve us, the integration of Self, and cultivating choice in order to take value-driven action.
She has worked extensively with substance dependence, mood disorders, personality disorders, and trauma through a multicultural lens. Lee is open to working with clients from all walks of life and helping you begin your journey of healing and growth.
During her off-hours, she enjoys spending time with her family as well as gardening and soaking in hot springs.
Clinical Social Worker
Courtney Davies
Courtney focuses on implementing mindfulness-based interventions and cognitive behavioral therapy into her therapeutic approach. As a social worker, she aims to evaluate and assist her clients from a holistic lens. This includes examining both systemic factors and individual characteristics that might be contributing to obstacles in a client's life. Courtney values meeting her clients where they're at to collaborate on overall healing and growth. She enjoys working with millennials and young adults and makes it a point to erase the stigma surrounding mental health treatment and the world of therapy. When she doesn't have her therapist hat on, she loves to climb and camp in the Utah desert, watch The Great British Baking Show, and tend to her house plants.
Licensed Clinical Social Worker
Joshua Henricksen
Josh Henricksen graduated from the University of Utah with a Bachelor's degree in Psychology in 2016 and with a Master's degree in Social Work in 2019. Since then, he has been working at the Huntsman Mental Health Institute (formerly UNI) with inpatient youth leading groups, individual and family therapy sessions, and helping them connect to ongoing outpatient support. He is licensed as a Licensed Clinical Social Worker (LCSW).
Josh utilizes a client-focused approach, incorporating tools from CBT, Acceptance and Commitment Therapy, Self-Compassion, and Mindfulness to help clients find ways they can experience healing. Josh is skilled at connecting to others, helping them feel comfortable opening up to discuss hard topics, and creating a space for healing and growth.
In his downtime, Josh loves spending time with his husband and playing with his dog, Archie. He is an avid reader and enjoys dancing, singing, and laughing at dad jokes
Clinical Mental Health Counselor
Julia Moench-Parent
Julia graduated in 2017 with their Masters in Clinical Mental Health Counseling from the University of Phoenix.  Prior to moving to Moving Forward Counseling full-time, she worked for the past 7 years in a dual-diagnosis and mental health treatment facility in both their residential and outpatient programs in a multitude of roles.  She has been at Moving Forward Counseling for over a year, and will be the Clinical Director for our outpatient mental health program.
She has had training and certifications in a multitude of different modalities such as: ART, EMDR, trauma-informed art therapy, grief/loss, mindfulness, DBT, CBT and ACT.  She enjoys working with adults and adolescents looking for support with trauma, anxiety, depression, BPD, substance and is LGBTQ+ and autistic friendly.
When not working Julia enjoys gardening, creating art, and binge watching TV shows with their family.
Licensed Clinical Social Worker
Tequina Adams
Tequina graduated from Westminster College in 2014 with a Bachelors in Psychology and minors in Brain & Behavior and Developmental Psychology. She started working in mental health during this time and completed her Masters in Social work in 2019. Since that time Tequina has specialized in the treatment of PTSD, OCD/ Anxiety disorders, and gained experience working with conditions such as Grief & Loss, Depression and Transgender issues. She is a Licenced Clinical Social Worker, mindfulness teacher, and trauma informed yoga teacher.
Tequina believes that the relationship with the client and compassion are vital for her clients success. She brings non-judgemental, mindfulness, and self-reflective skills to the therapy space. Tequina has been trained in EMDR and completed the Certified Trauma Treatment Professional training, and is working on applying for certification for each.
 She utilizes other various approaches such as person centered, IFS, mindfulness, Exposure Response Prevention (ERP), DBT, and psychodynamic approaches.
In her down time, Tequina loves outdoor recreation activities, reading, spending time with her partner and two kids, dancing, yoga, and listening to comedians.
Associate Clinical Mental Health Counselor
Amanda Shepard
(TELEHEALTH ONLY)
Amanda is an Associate Clinical Mental Health Counselor (ACMHC). She received her bachelor's degree in public health from Utah Tech University and her master's degree in Clinical Mental Health Counseling from the University of Utah.
She enjoys doing individual therapy with young adult and adult clients. She specializes in treating depression, anxiety, relationship issues, betrayal trauma, pornography addiction, faith crisis, and trauma. Modalities she uses often are cognitive behavioral therapy (CBT), acceptance and commitment therapy (ACT), internal family systems (IFS), and mindfulness.
Amanda strives to offer her clients a non-judgmental/unbiased space to foster better self-awareness and learn coping skills for dealing with life challenges. Her training, practice, and own lived experience has grown her passion for helping others in their mental health journey. During her free time, she enjoys playing video games, watching suspenseful movies, and attending her local farmer's market.
Associate Clinical Mental Health Counselor
Zoë Bergman
As a queer-identifying Ph.D. student at the University of Utah and therapist, Zoë has developed a focus on the body, gender, sexuality, reproductive mental health, and the importance of amplifying marginalized voices through narrative practices and storytelling. She combines evidence-based research, queer-affirming care, trauma-informed practices, mindfulness, and social justice activism to cultivate meaningful relationships.
Zoë supports clients as they explore their relationships with themselves, their identities, bodies, and food while working to provide a safe space to gently confront histories of trauma, particularly regarding their bodies, power dynamics, shame, sexuality, gender, and identity. She works intently with clients to foster a space fueled by warmth, acceptance, compassion, courage, and honesty. She believes in the power of stories and through a body-centered, queer-affirming, social justice-focused, and person-centered approach she looks forward to hearing, honoring, and exploring your own powerful narrative.
Outside of work and school, she enjoys reading, running, meditation, pilates, spending quality time with loved ones, and taking her dog to nearby parks.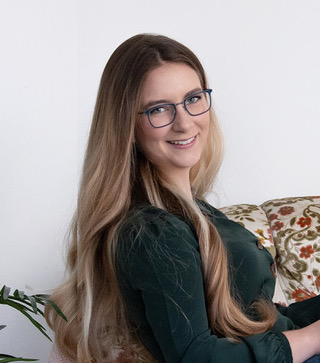 Associate Clinical Mental Health Counselor
Sidney Pearson
Sidney is licensed as an Associate Clinical Mental Health Counselor who works primarily with teens and individual adults as they strive to understand how their lived experiences have impacted them across different stages of life. She believes that finding a connection with a counselor is one of the most important pieces of therapy and prioritizes taking time to build a sense of safety. With a focus on your unique context and value system, Sidney uses elements of Acceptance & Commitment Therapy, Strengths-Based Approaches, and creative expression techniques to help you get closer to where you'd like to be.
Outside of her time at work, Sidney enjoys gardening, reading, and endless home improvement projects.
Licensed Marriage and Family Therapist
Mark Jueschke
Mark Jueschke is an Associate Marriage and Family Therapist. Mark graduated from Southern Utah University with his Bachelor of Science Degree in psychology. He obtained his Master Art degree From Chapman University, majoring in Counseling Psychology with an emphasis in Marriage and Family Therapy. Mark has utilized his skills in working with adults and teens, couples and families in a variety of settings. He worked cumulatively for 12 years in the social services field working with elderly, disabled adults and in child welfare working with families. Mark also spent nine years working as a Hospice Grief Counselor where he helped individuals and their families cope with the painful realities grief can bring. Mark has specialized in working with those struggling with anxiety, depression and life challenges and helping find a path to hope and healing. He has also worked with individuals struggles with the challenges of addiction. He has a strength-based style where he utilizes Solution-Focused as well as Dialectical Behavioral Therapy (DBT) approaches. Mark has found in his personal and professional life, that seeking balance through mindfulness, relaxation and grounding techniques can be an effective facilitator for healing and change and enormous growth.
For Mark, his family is everything and he loves spending time with his wife and children. Road trips. He loves drives down the coast or on a mountain highway enjoying beaches, lakes, and streams. Mark loves to enjoy the beauty this earth of ours holds. But when the rubber hits the road, a simple game of UNO with his family at the end of the day has brought numerous times of laughter and joy. Laughter is a vital part of Mark's everyday life and he loves to surround himself with the others who laugh often and easily.
Mark loves to sing, play the piano. Music has always been an essential part if his life. He has sung publicly and privately, both in choirs and solos. He has found that music can bring healing and solace to the soul.